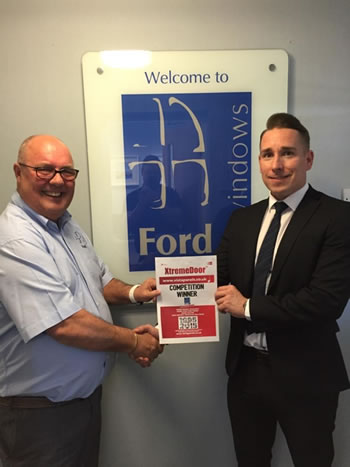 Specialist composite door manufacturer Vista has named Ford Windows the March winner of its XtremeDoor competition. The South Yorkshire based fabricator and installer joins Rapid Frame, York Trade Frames, UK Plastics Direct, and Titan Trade Windows who also won a free XtremeDoor in 2015.
"XtremeDoor is the market-leading composite door and we're delighted to have won" commented Philip Shackley, managing director of Ford Windows: "It's great to see Vista celebrate their 20 year anniversary with a monthly competition and it was a nice surprise when our name was drawn out of the hat."
Established in 1976, Ford Windows fabricates Eurocell PVC-u products from two factories – one in Sheffield and one in East Kilbride Scotland – and installs new-build projects for clients such as Barratt Homes, David Wilson Homes, Taylor Wimpey, Persimmon Homes and Miller Homes. According to Philip, Ford Windows offer XtremeDoor because it has many advantages over other composite doors.
"XtremeDoor is a high specification product and this helps us upsell rather than competing on price" Philip explains. "For instance, XtremeDoor has a five point lock, triple sealed outerframe, 3×3 way adjustable hinge and stainless steel hardware whereas many competitor products have a three or four point lock, double sealed outerfame a two-way adjustable hinge and zinc hardware. When explained to the end user, these features are all major selling points and allow us to command better margins. We also play on the fact that XtremeDoor is 19% more thermally efficient than a solid timber core composite door."
Philip goes on to explain why he buys-in from Vista: "Vista offer exceptional quality, first class service and a unique range of styles and colours – they are a superb supplier."
Sales director at Vista, Wesley Buchan comments: "Congratulations to Philip and his team on their win. XtremeDoor is a truly stand out product and it's pleasing to see Ford Windows using the versatile range of styles, colours, and hardware to position themselves at the higher end of the market and win business at better margins."
XtremeDoor composite door competition
If you want to be in with the chance of winning an XtremeDoor, simply order one through our online ordering service. Winners are announced at random on the 20th of each month. You can follow the news on our website or through @VistaPanelsLtd on Twitter, using the hashtag #XtremeDoorWinner.
Related topic: Why an Xtreme Door is what all homeowners should have this Winter