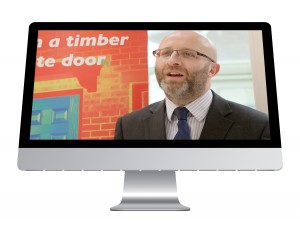 Following the launch of XtremeDoor by Vista two years ago, Everite Windows, a multi award winning installer based on the Wirral, has reported a noticeable increase in sales of composite doors. XtremeDoor offers market leading thermal efficiency, security and weather performance, as well as having the sleek style and aesthetic versatility the modern consumer demands, and Everite's sales manager Mark Scudder has used this potent combination to win business from consumers throughout Merseyside.
Mark comments: "We get a lot of customers coming to us because they want to replace their draughty old timber door with an energy efficient alternative. We recommend XtremeDoor for one simple reason – it's incredibly thermally efficient, up to 19% more thermally efficient than other composite doors on the market. The triple-seal that Eurocell offer as standard offer two brush piles and one bubble gasket. We could not get a better weathertight seal for our customers' front and back doors."
Everite, XtremeDoor, and Vista
Everite have become such passionate fans of the best-in-class composite door that Mark Scudder features in Vista's new promotional video. "We recently opened a new showroom and are always looking for ways to encourage potential customers to visit the site. I asked Vista for some marketing advice, and they suggested appearing in their next promotional video. We already use the XtremeDoor brochure, website and pop up banners, so the video is a great addition to our marketing portfolio."
Keith Sadler, managing director of Vista commented: "Installers love XtremeDoor because it's such an easy sell – top-drawer thermal efficiency, security and weather resistance, wrapped up in a stylish, highly customisable package – and it's good to see such a well-respected company as Everite talking about these features on camera."
The video forms part of a marketing strategy designed to help installers sell the many benefits of XtremeDoor to end users. "Over the next twelve months, we'll be releasing several more clips, each focusing on a different aspect of the XtremeDoor", commented Keith. "We want to be a company that succeeds because our trade clients succeed, and our video campaign is just the latest initiative we've designed to help us achieve that."
Founded in 1995, Vista Panels is one of the country's biggest and most respected composite and uPVC door manufacturers. The company was recently acquired by Eurocell, one of the UK's leading manufacturers, distributors and recyclers of window, door, conservatory and roofline products.